Thank you for joining us on the adventure of a lifetime! Pack your bags! Get those passports ready!
We have a fantastic sponsor this month, ConnieCanCrop!
She will be giving one lucky winner a $10 gift certificate to spend in one of her online stores!
What do you need to do to win? Easy... become a follower of each of the fabulous blogs in this hop and leave each of them a comment letting them know what you like best about their projects.
You will have until 12:00 am Monday to finish this hop and leave your comments.
Winners will be announced on Wednesday at Connie Can Crop.
Be sure to follow everyone and leave your blog love along the way!
Your destinations await you! Bon Voyage!
Where are you going???
SPAIN!!!!!!!
When I think about Spain. I think about good FOOD and PARTY!
Party Banner
FOOD.....
REALLY REALLY GOOD FOOD!!!!!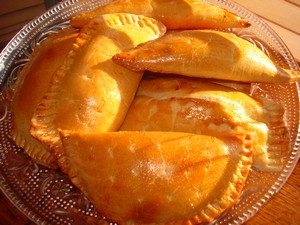 Food is one of thee most entertainment and having guest makes it perfect!
The above picture is called 'empandas'. I know we were to make crafty stuff but heck when started to make the decorations. I had to make my favorite Spain food. Mmmmmmm
Brown ground beef in medium skillet on medium heat; drain. Add onions, peppers, ham, dressing, tomato sauce and garlic; mix well. Simmer on medium-low heat 10 min., stirring occasionally. Remove from heat. Stir in cilantro.

Shape dough into 12 balls, using about 2 Tbsp. dough for each. Flatten each ball into 6-inch round. Spoon about 1/4 cup meat mixture onto center of each round. Moisten edges with water. Fold dough rounds in half to enclose filling; press lightly on tops to remove air pockets. Seal edges with fork.

Heat oil in large deep skillet to 375°F. Add empanadas, in small batches; cook 3 min. on each side or until golden brown on both sides. Remove from oil with slotted spoon; drain well. Cool slightly.
Hope you try it and enjoy the taste of SPAIN!!!!!!!!
Here is our complete line up in case you get lost along the way: